Making a Difference in Your Parish Community!
Careering is founded on (i) the Catholic principles associated with the Dignity of Work and (ii) being proactive in helping one's self and parish community adapt to a constantly changing employment environment.  Careering embraces relationship building, lifelong learning, and ongoing faith develop with the goal of improving one's physical and mental health, family structure and financial security.
How Careering came to be?

Saint Joseph, Patron Saint of Workers, the Catholic principles regarding the Dignity of Work, and Father Michael J. McGivney, founder of the Knights of Columbus, serve as the inspiration and foundation for Careering.  Fellow Knights Paul Dean and Dana Gower developed our Career Network Ministry after recognizing the many needs and concerns for the social and financial well-being of fellow parishioners in the Research Triangle Park area of NC.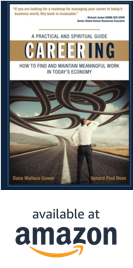 Recognizing that gone are the days of loyally working for the same company your entire career and retiring with a pension, they wrote Careering – How to Find and Maintain Meaningful Work in Today's Economy. Careering* is a practical and spiritual guide for helping individuals, ministry groups and parish communities outside the area engage in a new, broader way of thinking about and managing one's career.
* All net proceeds from book sales are donated to charities.
"Work is fundamental to the dignity of a person. Work, to use an image, 'anoints' us with dignity, fills us with dignity, makes us similar to God, who has worked and still works, who always acts…"
– Pope Francis, Feast of St. Joseph the Worker and World Labor Day, May 1, 2013